What happens to the animals that don't get adopted right away….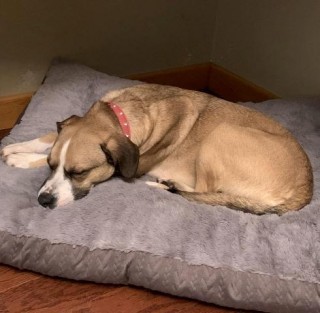 People often ask us what happens to the animals in our care when they do not get adopted…here is your answer folks.
They wait. The animals that do not get adopted quickly just keep waiting for their perfect family to walk through our gates and fall in love. In the meantime they are loved and understood by our staff and volunteers and we make a point of telling these special critters that their special family is out there somewhere waiting to find them.
Here is Copa, our longest resident dog. Copa came to us a hormonal wreck, under a year old with a huge litter of her own that she was doing her best to keep safe from the big scary world. Her pups were weaned, Copa was spayed and most importantly Copa was seen. She was seen by our volunteers who invested love, understanding and training time into her. Then She waited. Copa waited 15 months until the family of her dreams walked through our gates. Their application came in and we were all immediately excited… "could this be the one"… the excitement grew after our adoptions coordinator chatted with the family because they sounded perfect. They passed their home check with flying colours and when they met Copa in person it was love at first sight. Then Copa went on trial and we were all trying to contain our excitement as she had gone on trial once before and it was just not the right fit. Two days after heading out on trial the adoptions coordinator got a text "Just wondering, do we need to wait the full two weeks to let you know we would like to complete the adoption process. Copa is a perfect addition to our family. We don't need to weeks to realize that. We all love her already and seems she's pretty happy with us too." Copa's wait was over [♥️]
So in Short the critters that don't get adopted quickly also find their happily ever after, sometimes it just takes them a little longer.

Photos