Wetzin'kwa Community Grant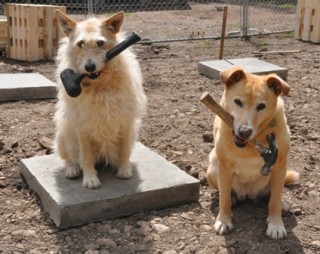 In 2013 the NWAS received a grant from the Wetzin'Kwa Community Forest Corporation to construct an Isolation/Wash Unit, where at risk animals can be segregated and animals cleaned as needed. The Community Grant Program was established to distribute profits from the operation of the Wetzin'kwa Community Forest tenure back into the community.The program's objective is to provide support for a broad range of projects and initiatives that will return the greatest long-term benefit to Bulkley Valley residents. WCFC takes its name from the Wet'suwet'en word Wetzin'kwa, which means "flowing blue green or clear waters" and refers to the river flowing from Morice Lake to Hazelton, or the Morice and Bulkley rivers.
The construction has begun, and as usual, we rely on our volunteers to help us operate and get projects off the ground. In May the NWAS was fortunate to have 4 friends from the lower mainland come and kickstart the construction: Gordon Watts, Randy Mottus, Jim Pozer and Ken Oliver. After 5 days of effort, the shell was constructed, and the tin on the roof! NWAS regular volunteers Tom Roper, Wayne Couture, Jean O'Sullivan, Lorna Walker and Sara Tomlinson also participated.
Photos