The story of Quinn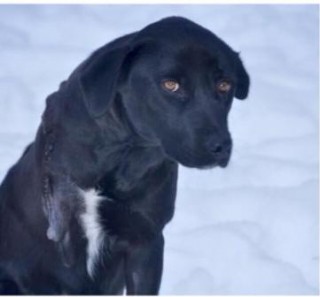 Not another one !
Free roaming animals and vehicles do not mix well and if ever proof is needed just talk to the Northwest Animal Shelter. In the span of a few months late last summer and fall, we took in 5 dogs and 4 cats with injuries due to motor vehicle accidents, injuries which have meant pain, suffering and major life changes for the animals and huge vet bills for the shelter.
Quinn was one such casualty: a sweet, gentle young mixed breed whose story illustrates both the good and the bad aspects of animal care and rescue.
We received the message one afternoon. A dog had been hit by a car a couple of days previously. Unfortunately not an unusual event. What was unusual was the driver took the time and effort to find out where the dog lived and took her home. And even more surprising, went to check on her later that week. He found her lying in the basement, unable to stand, lethargic, with infected wounds on her back legs and no movement in her right front leg.
The owner surrendered her to NWAS and she was transported the 45 kms into a vet clinic in Smithers.
Over the next few days she regained the use of her back legs and could walk again but her front leg remained useless. The decision was made to give her a few weeks to heal and see if she would regain any function. As she hopped around dragging her leg through the snow Quinn won everyone's heart. She loved people, loved attention and really wanted to play with the other dogs. When you entered the kennel the first thing you heard was the thump, thump, thump of her tail as she greeted you. Calm and gentle she was a favourite of everyone, children and adults.
Unfortunately, after several weeks passed, her leg remained non functional and had to be amputated.
At first she was very subdued. It was difficult to see her hobbling around, her eyes reflecting pain and confusion as she tried to maintain her balance. But in a few days she regained her zest for life, going up and down stairs with no apparent difficulty and racing around in the snow with great glee. The Quinn we knew was back, but with a great deal more energy than before. At first we thought she would do well in a quiet home but she soon showed that would be too boring for her, she wanted to run, play and be a typical young, active dog, albeit one with three legs instead of four.
She is now adopted, a loving companion in a home that adores her.
And a testament to the resilience of dogs.
If it takes a village to raise a child, it takes a community to rescue an animal.
As a result of being allowed to roam freely by someone who, due to health and financial reasons, was unable to provide veterinary care for her, Quinn lost her leg and her home. But due to the caring of the person who hit her, the skill of the vets who treated her and the support of the shelter which kept her safe until she was well again she has gained a new life.
Thank you to all the people who donate, volunteer and otherwise allow the shelter to save the lives of the hundreds of animals like Quinn who, each year, find themselves homeless through no fault of their own. Please consider donating to help us continue to help animals in need.
UPDATE FROM QUINN'S FAMILY:
Hello to the hardworking volunteers of the Northwest Animal Shelter! Just wanted to give you an update on Quinn! (though we have since changed her name to Bella as we found it more suiting because she is oh so beautiful!) She amazes us everyday and we find reasons to boast about her to anyone and everyone! She has gotten so strong on her three legs; she enjoys her morning walks, she can keep up with all her new dog friends and she loves to climb to the very top of all the snow hills. She is such a smart and loving dog, we ask ourselves everyday how did we get so lucky. She comes to work with me most days and she is bundle of positive energy as she bursts through the door to excitedly greet all my fellow co-workers. She is still getting use to customer traffic and some people are more bark worthy than others, however she learning fast that it is okay to not bark at work. Of course we invite any of you to stop by anytime to have a visit! I just know she would love to see the people that brought her back to such great health. We thank you so much for allowing her to come into our life and for all that you do so the many animals of the north can have loving homes.
Photos