The NWAS Team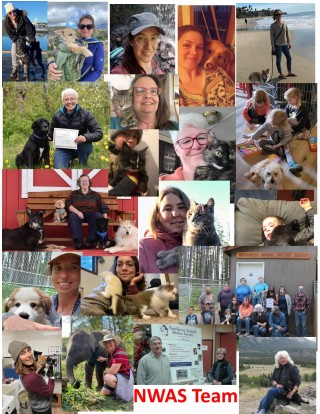 These are some of the faces (not all) that make the Northwest Animal Shelter run. It takes a lot of dedication from our Volunteers, Caretakers, and Foster homes. These are the people who come to the shelter when it is +35 degrees in the summer or -35 in the winter (and all temps and weather in between) to care for the animals. These are the people who haul animals to their vet appointments, or transport to other rescues where they can be adopted faster. These are the people who open up their homes for an animal in need, to care for them until they are ready to be adopted. The common denominator is that they care for animals, and work hard to ensure they have a good life.
If you have given any thought to becoming a member of the NWAS team through volunteering or fostering - send an email to volunteer@nwas.ca or foster@nwas.ca. If you have reached out and not heard back, please send a follow-up email, or check your junk mail.
Thank you to all the volunteers who help the animals, and all who donate to the cause and support our efforts!