The NWAS is Hiring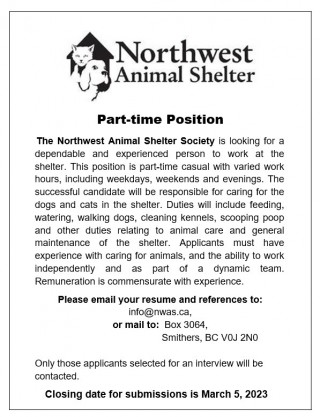 The Northwest Animal Shelter Society is looking for a dependable and experienced person to work at the shelter. This position is part-time casual with varied work hours, including weekdays, weekends and evenings. The successful candidate will be responsible for caring for the dogs and cats in the shelter. Duties will include feeding, watering, walking dogs, cleaning kennels, scooping poop and other duties relating to animal care and general maintenance of the shelter. Applicants must have experience with caring for animals, and the ability to work independently and as part of a dynamic team. Remuneration is commensurate with experience.
Please email your resume and references to:
info@nwas.ca,
or mail to: Box 3064,
Smithers, BC V0J 2N0
Only those applicants selected for an interview will be contacted.
Closing date for submissions is March 5, 2023