Support NWAS - Canada Helps Fundraiser to Help with Veterinary bills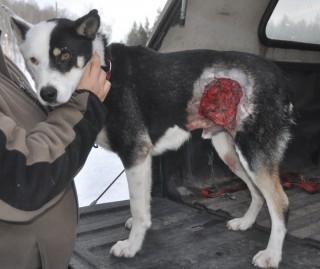 Another call or email, a dog has been injured and had to be dragged off the road. Can we help? A stray cat has been found, walking on 3 legs with a badly injured tail - can we help? Another dog has been hit by a car, and cannot walk. The fourth in as many months? Her person is unable to care for her, both financially and physically, and she is in the basement needing care. Can we help? A kitten found in a parking lot has a broken pelvis, but she is sweetness itself - can we help, please? An abandoned dog is lying under a porch, with a huge patch of skin missing - you can see muscle, and he is starting to smell. He is suffering - can we help? Sometimes it is overwhelming, the number of broken critters needing our help. Can we help - how can we not help?
We are rescuers at heart and with a heart, but we are also a small group with limited resources. We do all we can in these situations, but we need your help to continue. We spend thousands of dollars annually on vet bills, in addition to the costs of operating a shelter. Please help us continue to aid these broken critters who find their way into our care. No amount is too small, from a small seed a mighty trunk may grow (Aeschylus).
Thanks to our local vets, and our caring volunteers and supporters, Quinn, who suffered nerve damage in her right front leg after being hit by a car, will soon be adopted into a loving family. She is living happy and healthy on three legs now, but it doesn't slow her down. She enjoys her walks and snuggles.
Raffi the cat is still waiting for his forever home, but has recovered from a broken leg and pelvis, and tail amputation. This forward boy will be the first to tell you he is doing fine, and he would like a little attention please.
Bean, the sweet 10 week old kitten with cream coat and blue eyes, recovered from a broken overlapping pelvis and is now living in her forever home.
Two Face, the friendly fellow with the gaping wound, has also recovered and is living as a cherished family member in his new home. He survived our attempts to keep his wound covered and clean - using wraps, and diapers and pants!
These are but a sample of the animals who have come into our care needing extraordinary help. Please consider donating towards our veterinary costs, so we can continue say - Yes, we can help. Canada Helps Fundraiser
Documents