Results are in - Iron Chef Bulkley Valley All Stars 2019!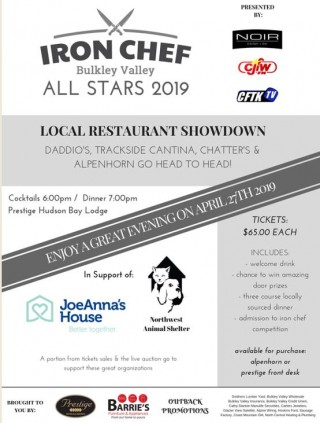 The results are in, and the NWAS is the grateful recipient of a whopping $4,500 as our share in the Iron Chef Bulkley Valley All Stars 2019! Thank you to all who organized and sponsored this amazing event last April: The Prestige Hudson Bay Lodge, Noir Kitchen and Bar, Barrie's Furniture and Appliances, Otto Koldyk, Outback Promotions, CJFW, CFTK, Smithers Lumber Yard, Bulkley Valley Wholesale, Bulkley Valley Insurance, Bulkley Valley Credit Union, Cathy Stanton Manulife Securities, Carters Jewelers, Glacier View Satellite, Alpine Wiring, Hoskins Ford, Sausage Factory, Coast Mountain GM, and North Central Plumbing and Heating.
The competition was fun and fierce, as Daddio's, Trackside Cantina, Chatters and the Alpenhorn competed head to head for the title and bragging rights. The audience was treated to a delicious meal prepared by Noir, and generously bid on items offered in the live auction to benefit NWAS and JoeAnna's House, a charity near and dear to the Prestige Hotels.
We are truly honoured to be a part of this amazing event, and thank everyone for thier support!

Photos