Northern Animal Groups Hold "Big Build" July 6th to Keep Dogs and Cats Out of the Cold and Heat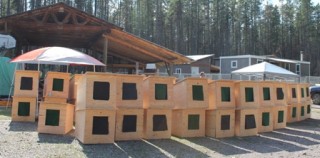 In the house with their family is the best shelter for dogs and cats. However, there are still dogs and cats who spend their days and nights outdoors. For these animals, cold winters are a big concern but so are the hot days of summer. Cats and dogs are not wild animals and can suffer greatly – or even die – without proper shelter.
Since 2009 Lakes Animal Friendship Society (LAFS) has been working with volunteer groups to provide durable all-weather shelters to animals in need. Local high school teacher Dirk Hofer and his class created the "Hofer House", a simple but effective house design that has been used to build hundreds of houses for dogs and cats (and rabbits and other animals) in need, both in Northwest BC and as far away as Ontario and Alabama.
Smithers veterinarian Dr. Kim Hunter and her crew from Vet to Pet Mobile Veterinary Services have been cooperating with LAFS on a number of projects including spaying and neutering of animals from lower income families, educating children and families about animal care, compassion and dog bite safety. They brought several "Hofer Houses" to Laxgalts'ap in 2017 and have been keen to spread the shelter project to other communities.
On July 6th, LAFS and Vet to Pet teamed up with Northwest Animal Shelter Society (NWAS) for the first "Big Build". Volunteers from the three groups staged the biggest one day dog house build in BC history, at the NWAS shelter property. The Smithers Lumber Yard offered significant support including a discount to LAFS for materials and free delivery to the site, enough to build 40-50 dog houses. 45 dog houses were assembled and then broken down into flat packs for easier transport, and will soon be on their way to animals in need across Northwest BC.
A huge shout out to the hard working volunteers who spent a beautiful summer Saturday working on this important project.
Donations to the dog house project can be made on the LAFS web site: www.lakesanimalfriendship.ca. A donation of $50 will cover the materials for one "Hofer House".
# # # # # #
About Lakes Animal Friendship Society
Lakes Animal Friendship Society is a registered charity that provides animal care, compassion and dog bite education as well as spay / neuter programs, pet food, and all weather shelters for pets in need with a focus on the Burns Lake area of northern B.C. www.lakesanimalfriendship.ca facebook: LakesAnimalFriendship
About Vet to Pet Mobile Veterinary Services
Dr. Kim Hunter, Owner/Operator of Vet to Pet, has decades of experience as a vet in the northern areas of Beautiful British Columbia, working in remote communities, in sometimes rustic conditions. It is Dr. Hunter's intention to improve the quality of life of pets in the very deserving, yet under-served communities along Hwy 16 and 37 N.
www.vettopetmobile.com facebook: VetToPetMobile
About Northwest Animal Shelter Society
The Northwest Animal Shelter is a registered charity dedicated to improving the welfare of companion animals in north central British Columbia, serving the area from Houston to Kitwanga. www.nwas.ca .
The NWAS operates an animal shelter in the Bulkley Valley, and has found homes for hundreds of animals over the years. All animals that come into care are spayed/neutered, vaccinated, and treated for parasites before being put up for adoption. Many animals are injured, requiring expensive medical procedures before being put up for adoption. The NWAS also operates a successful spay neuter program that helps make the cost of fixing pets more affordable to lower income individuals and families, as well as area rescuers. More than 2,500 animals have been altered under this program since inception. Applications can be found on www.nwas.ca.
Donations to support NWAS programs can be made to Northwest Animal Shelter Society, Box 3064, Smithers BC V0J 2N0, at any Bulkley Valley Credit Union or through Canada Helps.
Photos