Happy New Year, and thank you!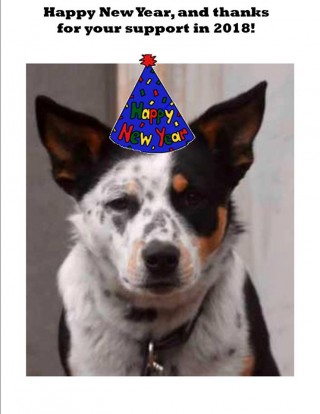 Happy New Year, and Thank You
The start of a new year is also a time to reflect on the year just passed. In 2018 we surpassed 2,467 animals fixed under our SNAP program (spay neuter assistance program) to date. In the year ended May 31 2018, we spent more than $16,000 on this program, and an additional $36,000 on vetting for animals in our care. That is a whopping $52,000 on medical care in just a one year ! This was a year when many animals came to us injured, and in great need. Animals hit by vehicles, with shattered legs, hips, jaws. Thank you to our local vets who discount their fees for us - we could not operate without the generous support of Babine Animal Hospital, Vet to Pet Mobile Services, and Dr. Paula. We also have a mortgage to pay, wages, property taxes, hydro, etc to operate the shelter. We could not operate without the donations from our community, thanks to all who supported us in 2018, whether taking out a membership, donating $ or food, or putting on a fundraiser. Every dollar donated helps an animal!
Thanks to the support shown by the Town of Smithers, in extending our contract to provide pound services. The businesses who keep our donation boxes on their counters - Petro Can, Chevron, Total Pet, Telkwa One Stop, and the Liquor Store. Total Pet for showcasing some of our animals available for adoption, our local adoptions have gone up thanks to you. Total Pet and Smithers Feed Store for accepting donations on our behalf. Scott from Pro Tech, for moving a lot of snow for us over the years (including this past week - thanks Scott!). Fundraisers like the Banff Mountain Film festival (thanks Outdoor Essentials), Pet Appreciation Month (Total Pet), BBQ fundraisers by BVIS and Western Financial. The Interior News for donating space for our events, and fundraising by asking for donations for older news papers. The Bulkley Valley Credit Union for their ongoing support, Natures Pantry, and the many other local businesses who support local groups such as ours.
I would like to thank our employees, who always go above and beyond for the animals, and our dedicated group of volunteers about whom I can't say enough. Volunteers include our Adoptions Coordinator (190 animals adopted in one year!), SNAP, Volunteer and Foster Co-ordinators, those who are willing to trudge out to the shelter on a cold winter night to do a shelter shift, or crawl under a building to repair leaking pipes, etc. Volunteers who brave giving medicine to semi-feral cats and kittens, then write stories about their experiences with love and humour. Our foster parents who open their hearts and homes to animals in need. Much was accomplished in 2018, thanks to all who helped out!
Sara Tomlinson
President