COVID-19 and the Northwest Animal Shelter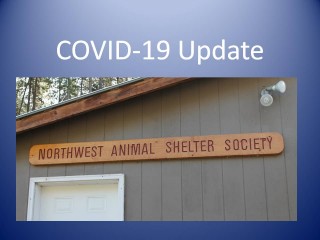 COVID-19 and the Northwest Animal Shelter

In order to protect our staff and volunteers, and continue to be able to assist animals in need in the Bulkley Valley, we are restricting our intake of animals to the most urgent cases only. If you find an animal, please contact us via email at info@nwas.ca or on our facebook page - and we will post a picture, the area where found, with your contact information. Hopefully the owner will be found. Please care for the lost animal as you would want someone to care for your lost pet! In the event that you absolutely cannot care for the animal, or if the animal is injured and requires medical care, we will do our best to help. The same applies if you have lost your pet - we will post a picture and where the pet was lost, with your contact information. The best way to assist your pet in returning home, however, is to have an ID tag with your contact information on their collar. If you need to surrender your pet, please email info@nwas.ca so we can determine how and when we can help.

We remain open for adoptions, with new protocols to protect our volunteers and the public with respect to viewings, etc. As usual, all visits to the shelter are by appointment only, after an application has been received. Please check out our website www.nwas.ca or facebook page for animals available for adoption, and fill out the online application. Not all animals are posted on the website or facebook page if we have approved applications on file, so tell us what you are looking for. Our adoption coordinator would then be in touch to review the process. Our goal remains to adopt animals into loving homes, so we can continue to take animals at risk into the shelter.

Our SNAP (Spay Neuter Assistance) program remains in effect. Applications can be downloaded from our website (www.nwas. ca under programs) and emailed to info@nwas.ca. Applications can also be picked up at Vet to Pet in Smithers.

While we are still accepting applications to volunteer at the shelter, we are currently not able to provide training to volunteers in a manner that is safe to both the trainer and applicant. While we encourage you to fill in the application and thank you for your interest in helping out, new volunteers will not be accepted into the shelter environment until after the pandemic.

We are still accepting applications for those interested in fostering animals, and encourage electronic submission of documents at this time.

We thank you for your help and cooperation in allowing us to safely care for animals in the Bulkley Valley. Thank you to our wonderful staff and volunteers for their dedication, and our local veterinarians for all you do. Stay safe, and stay strong everyone! We will get through this together.