CAAT in Burns Lake 2012 Report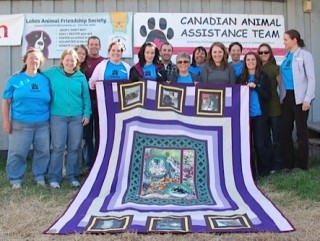 Photo and story by NWAS Director, Lorna Bertram
Rescue groups all over the province, the country and the world are inundated with homeless animals. The number of dogs and cats who are rehomed each year in BC alone is staggering. Thousands of dedicated people spend countless hours catching, feeding, vet checking, socializing, training, advertising, spaying/neutering and housing neglected animals. But after many years of such effort the numbers are not going down. Individual animals are being helped but overall the big picture doesn't change that much. There are just too many dogs and cats out there.
So when I heard CAAT, the Canadian Animal Assistance Team, was coming to Burns Lake/the Southside to conduct a spay/neuter clinic for low-income families, I volunteered to go for the entire 10 days.
Organized by the Lakes Animal Friendship Society on the Southside this was the second year for CAAT to come to this area, in 2011 they spay/neutered 280 animals and had to turn away more for lack of time. I had volunteered for the first clinic and was interested to see if there were any changes in the communities because of it. Reports from local animal rescues and the vet clinic was that the numbers of animals, especially puppies and kittens, had gone down. It is much easier to prevent animals from being born than to deal with them afterwards so the clinic had a lot of support from various animal organizations in the area. Several people from the Northwest Animal Shelter volunteered, along with many others from Smithers to Burns Lake and the Southside.
Once again it was a big success. One hundred and eighty three dogs and cats were spayed or neutered. One hundred and twenty five others were vaccinated/dewormed and health checked. Students from local schools, from kindergarten to Grade 12, came on tours, learning about the reception desk, the preparation area, the surgeries, the recovery area and finishing with a demonstration of dog tricks. There was a community dinner complete with a raffle table with prizes donated by local people and businesses. Jeff Young from Colorado, a vet who is a huge proponent of spay/neuter demonstrated his techniques and low cost methods to interested vets and techs and gave a talk at the community college. There was education on dog language and communication, on being safe around dogs, on how to groom your dog, and how to trim their nails. A Roundtable discussion on Friday afternoon brought together representatives of rescues from Burns Lake to Kitwanga as well as the RCMP, local native groups and the CAAT team to try and improve communication and support for animals in need along the highway 16 corridor.
The CAAT team is composed of vets and vet techs from all over Canada who volunteer their time and skills to help a community manage their pet overpopulation problems. Generally they go to areas where there is either no veterinary care readily available or people can not afford it. They have to be invited to an area, local people have to decide they have a problem and want to do something about it. Education is a very important part of management, there is no point in spaying and neutering hundreds of animals if people are only going to acquire more and let them breed. Apparently the Southside has several puppy mills, people who deliberately breed puppies for sale, often having multiple litters of unregistered or mixed breed dogs which may be kept in substandard conditions and are sold for profit. Many of these dogs suffer from health problems which can be passed on to their puppies, they are usually sold through pet shops with no record of where they came from and no knowledge about the parents. While small dogs are commonly bred this way some large breeds are as well. The only way to stop these puppy mills is to refuse to buy their puppies, people who care about their animals don't send them to stores where they are sold to anyone who has the money to buy them.
Judging by the response and the people and animals who came the education from last year has had some effect. Many of the animals who were brought in for vaccinations had been spayed or neutered last year, and, especially with the males, many people said they were calmer and had become better companions. There were fewer animals with matted coats and overgrown nails and the most common health problem was obesity. Most pets were healthy, friendly and living in close contact with their people, and most people were grateful for the opportunity to learn more about looking after their animals.
The hard work has been worth it. CAAT has helped a significant portion of the community. The rest is up to the people themselves.
For more information about CAAT, go to www.caat-canada.org.
Lakes Animal Friendship : www.lakesanimalfriendship.ca
Jeff Young: www.plannedpethoodplus.com
Photos