Bulkley Valley Insurance BBQ Fundraiser - Thanks so much!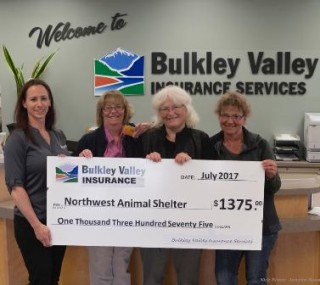 Thanks to Bulkley Valley Insurance Services (BVIS) for organizing a fundraiser BBQ for the NWAS! We received a much needed $1,375 from this event. Pictured are Dawn MacKay from BVIS, Jo Anne Maxwell (winner of the draw for a $200 Gift Certificate from Smithers Feed store - who donated it back to the NWAS!), NWAS Director Sara Tomlinson, and chef extraordinaire Bonnie Volk from the Smithers Sausage Factory.
Thanks to all the businesses that supported the event, in addition to those mentioned above, including the Bulkley Valley Credit Union, BV Wholesale, Royal Canadian Legion, Coast Mountain GM, Moose FM and the Interior News. Thanks to all the patrons who came down to enjoy a yummy burger and support the event.
Rumour has it that Bandstra Transportaion purchased burgers for an exorbitant amount! The NWAS works hard to help the companion animals of the Bulkley Valley, but we could not do it without the ongoing support of the businesses and residents of this amazing community we call home. Thank you so much!