A Huge Thank You to Babine Animal Hospital and Smithers Brewing Co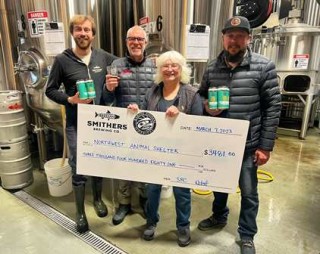 Huge thank you to Smithers Brewing Co. Babine Animal Hospital, Smithers BC Riverside Kitchen Co. And everyone that came out to this amazing event. What a wonderful evening it was!
Nearly $3500 was raised last week for the NWAS! It started with a vision and a request from Mike at @babineanimalhospital, a prompt yes from everyone at the Smithers Brewing Co and one damn fine beer from @theyreinthetrees. Powder Hound Vienna Lager was born and it's here to stay… at least seasonally that is. Huge thanks as well to @riverside_kitchen for the amazing eats and support and everyone that came out that day or purchased this beer across northern BC. Cheers!