Lost Cats
What to do if you lose your cat
Your best bet to get your pet back is to make sure he's easily identified with id or license tags.
There are still several other steps you can take.
Call your local vet offices; they are often the first place that people call when they find a missing animal.
Talk to your neighbours.
Post a picture on social media
Call the radio stations as they have regular lost and found announcements.
Make some posters with a colored picture of your pet and post 'em around the neighborhood, in convenience stores, near schools, etc.
If your cat is returned by a stranger who cared for them, give them a box of chocolates or a bouquet of flowers and make sure you cancel the ad and take down the posters.
All pets should have a collar and tags! The thought of a loved cat being stolen or lost is not pleasant for anyone, although statistics clearly show that there is a far greater chance of seeing your cat again if they are wearing a collar and license or pet id tag.
---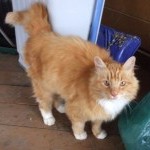 Found long haired ginger cat. White chest and feet. Looks like someone possibly has trimmed the hair on back of back legs. Friendly, but quite thin. Found on Old Babine Lake Road. Has been hanging around for a couple of weeks. If yours call 250-877-8411.
---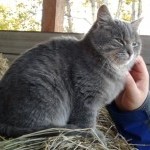 This little fellow was found in the Morris Rd area in Telkwa, Oct 7-17
---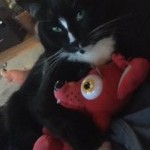 MISSING: PJ the cat is missing from the Elks Park/Railway Ave area of Smithers. He is an indoor only cat and could be skittish if approached. Please call Heather at 250 877 9520.
---