Ziggy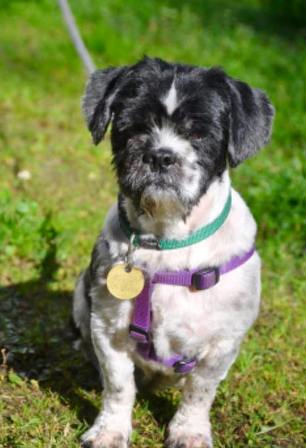 FOR ADOPTION: ZIGGY came to us badly matted, full of lice, and emotionally shut down. Thanks to a good grooming, and the dedicated, loving care of a wonderful foster mom, he has blossomed into a confident and affectionate little dog that is ready to meet the love of his life!
Ziggy is an easy going, roughly 5 year old male, Shih Tzu mix. He weighs approximately 16lbs and is fairly low energy, making him a prime lap dog type companion!
Ziggy's favourite activity is cuddling, but he also enjoys leisurely walks, outdoor time, and playing with like minded dogs. He has been fantastic with all dogs big and small and young and old and is very good with cats and children. Ziggy wants to be with you as much as possible, and will bark if he is confined and can see you. However, he is happy loose in the house while alone and has not been destructive to date. He could deal with having a large crate if that was his owners preference. Ziggy is good in the vehicle and loves the front seat, he's a little guy that is ready to go everywhere you go.
If you're looking for a quiet, loving companion apply today at www.nwas.cafor a chance to meet ZIGGY!