Zeus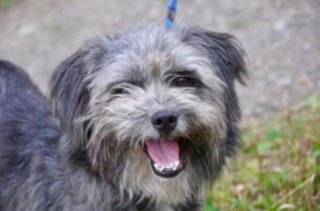 FOR ADOPTION: ZEUS is king of the Dogs!
This roughly 2 year old small breed mix (possibly Shih Tzu and Poodle) is as confident and charming as his legendary namesake. Zeus enjoys the company of other dogs of all ages and sizes. He is very friendly and loves to play with the other dogs, but at the end of the day he does expect that they bend to his will and make way when he wants to pass. Zeus will happily share his kingdom with cats, though if he comes across a stange cat on his travels he will send them packing.
He is very friendly with all the people he meets and especially enjoys playing fetch with the children. Zeus loves riding in his chariot through the heavens (or riding in a car drown the road) or exploring by foot. He has a medium energy level and will happily spend a day hiking/jogging etc, or cuddling on his throne.
Zeus is clean indoors with impeccable manners, however, he does expect to be included in all your affairs and will vocalize his disapproval of being left behind!
Zeus is neutered, vaccinated, up to date on parasite control, and ready to take his rightful place as king of a home. If you think your family is a good fit for this King of the Dogs, apply at www.nwas.ca for a chance to meet Zeus!