Turbine - adoption pending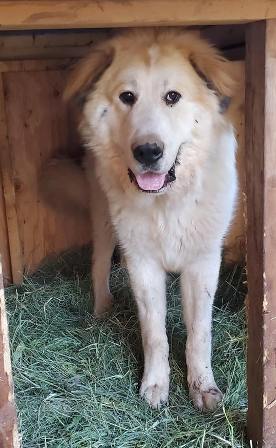 We are no longer accepting applications for this big floof. He has many wonderful home options available and we will start following up on all of his apps in the next day or so to find his very best match.
FOR ADOPTION: At 10 months old TURBINE is 110lbs of fluff and slobber looking for a loving family. This handsome Great Pyrenees mix came into our care when he came down with parvovirus and his previous owner was unable to assume his vet bills. We are thrilled to say that Turbine has made a full recovery from Pavo and that he is now completely non-contagious as he is no longer shedding virus. The only lasting effect his bout with Pavo will have on him is that he is now immune to the virus. Turbine is a friendly, affectionate young dog that absolutely loves everyone he meets. Turbine has been great with every human he has met and obviously loves children. That being said he would do best with dog savvy kids as he does sometimes forget his size. Turbine has been wonderful with all of the other dogs we've introduced him to so far. He is respectful and engaging with mature dogs and loves A good frolic with his young, playful buddies. Turbine has previously lived with a cat and could easily do that again. Due to his large size he would be best paired with a cat that is quite comfortable with dogs. Turbine was not raised as a guardian dog, for this reason we do not feel he would make a great working LGD. He will likely bark if strange animals come into the yard and may even chase them away if he's encouraged to but, this boy wants to be in the house with his people. Turbine was raised indoors and we suspect he will have good house manners if his needs are being met. He is still very much a puppy and does have some puppy quirks. When he is board Turbne has been known to chew up his bedding and dig holes in his dog run. When he is with people these are not issues that we've had to worry about, unfortunately at the shelter he does have long stretches of time alone. Turbine is still learning to walk well on leash. At 110lbs he's close to the same weight as many of our volunteers so he is learning to walk in a head Halti so that he cannot physically pull everyone to every scent that he wants to check out. He's learning to love his Halti and Turbine really does enjoy a nice walk through the woods. This boy is going to be a lower to medium energy level dog when he's mature. He loves going for walks and he could be a great hiking buddy but this is not a dog it's going to want to go jogging or run beside you while you're biking etc. Despite being a guardian breed of dog we have not found Turbine to be an overly loud dog. Our ideal home for him would be a rural setting with kids and other dogs to play with but he could also be a well mannered in town canine citizen. Turbine is neutered, vaccinated, up-to-date on parasite control and ready to head to his new family as soon as his surgery stitches come out. If you're interested in meeting our big loveable fluff apply today.