Mr Sardine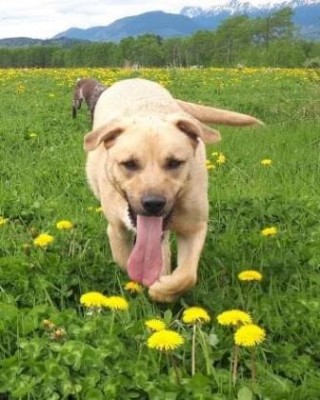 FOR ADOPTION: MR. SARDINE is a fun, loyal 18 month old male that is approx 70lbs. This fella is incredibly sweet and loyal with human companions of all ages but is looking for a home as an only dog (with dog friends to go on walks etc with or as a second dog in a very experienced home) as he does not like to share food/toys and can be very intense in play. He has successfully lived with cats in the past and although Sardine is a curious teenager that will try to chase a squirrel to see what it is, he has great recall and understands "no" well. Sardine has a higher medium energy level. We cannot think of an outdoor activity he will not keep up on, but he has a great off switch inside and he can be satisfied with some yard play on days when you don't have time for adventures. Sardine has been living in one of our most dedicated dog foster homes who also runs a dog boarding kennel so he has been living with 2-6 other dogs on a regular basis there. Here is what she has to say about him.
"The incredible life of fostering continues with this guy! You might remember him from a few months ago. This is Mr Sardine!
If you are in need for an adventure buddy this guy is your new best friend. He is incredibly loyal on walks, and with amazing food drive his recall is what dreams are made of!! He is crate trained, house trained (still working on not picking up kids toys but hes learning
), leash trained. Knows the basics, sit, stay, down, will 'place' (stay on a bed when told) as well. He is extremely playful and gets on well with most dogs. He can have an intense style of playing so can be a bit much for submissive or the super dominant ones. He LOVES our female, she is just feisty enough to keep him in line!
I feel he would do best in an only dog home with the opportunity to play with dog friends a lot."
Sardine is neutered, vaccinated and up to date on parasite control. If you've been looking for a fun adventure buddy apply today for a chance to meet MR SARDINE.