Molly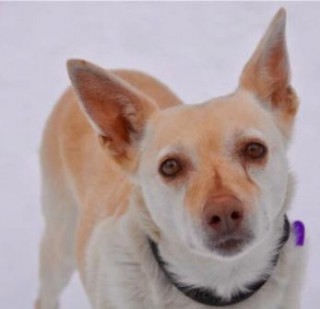 FOR ADOPTION: MOLLY is a fun, five year old, 35lb, female Australian Kelpie looking for her forever family.
She has a medium activity level. In nice weather, she will be up for hiking, biking, jogging... you name it and she will keep up! However, on cold or wet days she would much rather curl up by the fire and enjoy some quiet time indoors.
Molly enjoys spending her time with people, if your an avid entertainer or have a home based business she would make an excellent greeter. She won't make much of a guard dog though as she will happily invite anyone in in exchage for a belly rub or ball toss. Her love of people makes her best suited for a home where her family will be around the majority of the time, as she does bark when she is confined and alone. Molly loves children and her dream is to have some of her own, a family with kids or kids that visit regularly would be Molly's perfect home.
She has a high prey drive and will not do well in a home with small animals such as cats or chickens. Molly enjoys the company of other dogs and could live with the right canine friend, but she is a dominant little lady and very possessive of her food (with other dogs not with people) so we think she may do best as an only pet that has a few close dog buddies.
Molly is house trained, walks well on the leash, and has been non destructive in her kennel. She is spayed, vaccinated and up to date on her parasite control.
If you've been looking for a quirky, fun friend miss Molly could be your match apply today for a chance to meet Molly!