Harley - adoption pending!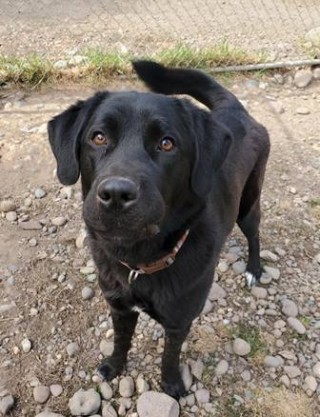 FOR ADOPTION: HARLEY is a 10 month old female Anatolian Shepherd/Newfoundlander looking for an active family. She is currently 72lbs and should Mature between 80 and 100lbs. Harley is a large, loveable goof that came to us as an owner surrender. Harley is still very much a puppy in a large body. She is full of energy, has a wonderful zest for life and is working hard on perfecting her good manners. Harley walks nicely on a leash and has a very solid sit command even when in new situations. She is still working on not jumping up on people and she does get mouthy when playing. We have been working to redirect her mouthy-ness towards toys. She has lived with cats previously and we are told she did well. We suggest keeping her on a leash around all new animals until she's learned to not try to play with the smaller critters so she will not accidentally hurt them. Harley is very friendly and confident with new dogs and loves to play. She pairs best with another playful large dog as she does not quite know her size. At this time Harley is best suited for a family that is all
Teenage or above. Once she has fully learned that jumping up and being mouthy while playing are not acceptable behaviours she would love to have smaller kids around too. Harley is a higher medium energy level. She can play all day and will easily keep up on big hikes, bike rides or even jogging when she is more mature but she will be content to just hang out and play in the yard some days as well. She is house trained, has been clean at the shelter, is comfortable in a large kennel and enjoys the car. She was spayed this past Thursday and will be ready for adoption once she is fully healed. She is up to date on vaccinations and parasite control. If you've been looking for a big, loveable goof apply today at www.NWAS.ca for a chance to meet HARLEY.