Complimentary Post - Hara and Daisy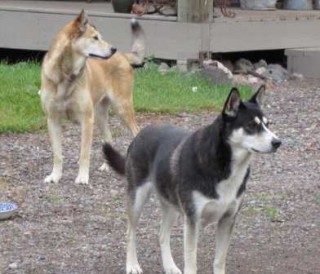 COMPLIMENTRY POST:
*These dogs are NOT in the care of NWAS and we make no claims towards their attributes or personalities*
WANTED: New forever home for Huskies - Hara (tan, approximately 7 years old) and her daughter Daisy (approximately 4 years old).
They were rescued from a sled dog property in Alberta. Hara has had repairs done to both her back legs and now walks with a limp. Daisy was hit by a train suffering a broken pelvis and walks with a wiggle even after receiving wonderful care from our local Veterinarians.
Their owners both passed away and they were rehomed but due to unfortunate circumstances they are once again in "care". They currently reside in a small home with two large dogs. Hara and Daisy get along with other dogs but are unsure around other animals and are very nervous around children. Both dogs have no concept of play. They will not retrieve a ball or stick, but they love to walk, wrestle with each other and are both very affectionate considering everything they have been through.
It would be best if they found a forever home together on a property without children. Please call 250-847-3435 and leave a message. This is a landline so text messages will not work.