Bart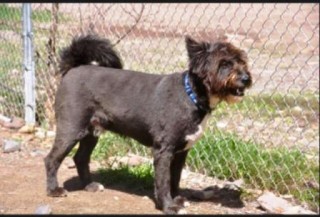 For adoption: BART is a four year old male large mixed breed who is ready for a family.
When Bart came to the shelter he was a very skittish boy with a wild hairdo and very little confidence. We've since discovered that he is a diamond in the rough! The more time we spend getting to know him, the more we love this charmer. After building his confidence up, and getting him a much needed haircut (thanks to Jessy's Dogtown Grooming in Smithers BC), Bart is ready for a new home!
Bart is a total momma's boy, and has proven at the shelter that he trust women more quickly than men. That being said, once he has time to build a relationship with a man, we don't anticipate there being any trouble with bonding.
Bart is good with cats and most other dogs, though he can be dominant in play which rubs some other dogs the wrong way. He is good on leash, clean inside, and working on his recall in the yard. Bart has some extra pounds at the moment, so doesn't have much stamina when it comes to long play sessions or strenuous exercise. We hope this will improve as he loses weight, but we definitely don't expect him to be a high energy dog!
If Bart has a downfall, its that he has tendency to get nervous in unfamiliar territory and try to turn himself invisible (a skill he hasn't quite mastered). He would benefit greatly from calm, gentle, and positive leadership and from continued exposure to new situations. Bart can be especially nervous of small children, so we would suggest he would do best in a home where his interactions with visiting kids could be closely supervised.
Bart will need regular grooming as he has the potential to grow an out of control afro! Otherwise, we this he would be a pretty laid back pet with a lovable, dorky demeanor! He is already vaccinated, neutered, and treated for parasites.
This handsome boy will need someone to hold his hand from time to time when he's scared, and in exchange will make someone a sweet and loyal pet. Does that sound like a good deal to you? Apply at today.