Wildflower kittens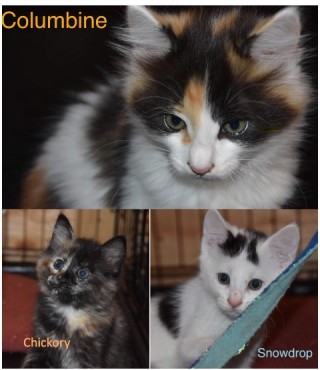 More kittens ready for adoption! Today we will showcase the girls of our Wildflower litter. These little ladies are sweet and friendly with instant purr motors as soon as you start petting them. They are easy going and willing to settle into most situations but have had limited exposure to kids, other cats and dogs. They have been health checked and had their first vaccines. They will come with a spay contract in place and as always will only go to families that are capable of booking their booster vaccines and spay appointments before they go home. If you're interested in a kitten please apply today- we have 23 looking for forever families. Adopting from us is cheaper than getting a free kitten and doing all of the vet care etc yourself.
ADOPTED - Columbine - Female - DOB Approx March 8th. Very snuggly and affectionate
Chicory -Female - DOB Approx March 8th. Sweet and friendly.
Snowdrop - Female - DOB Approx March 8th. Friendly, playful and sweet