Veeno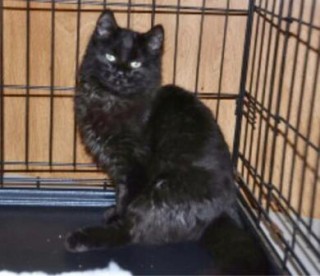 FOR ADOPTION: VEENO is a roughly 6 month old female that has been a NWAS resident for quiet some time. Veeno came to us as a small kitten with a horrible fracture in her left hind leg. After months of healing, Veeno is finally ready to find her happy ending.
We were able to keep her leg intact, but Veeno will always sit funny and walk with a limp. As a result she needs an indoor only home.
Its safe to say that Veeno has adjusted to her odd leg, and she hardly seems to notice it, let alone let it get her down! She has a playful side, and she especially loves batting at toy mice and chasing string.
She is also a sweet young lady that loves to cuddle and is very good with other cats and dogs. She is especially gentle and kind with kids, but will need to live with children old enough to understand how to be gentle to her in return.
Veeno has been spayed, vaccinated and is up to date on parasite control. If you thing you can provide Veeno with the happy ending she deserves apply today for a chance to meet her.