Trooper and Tigger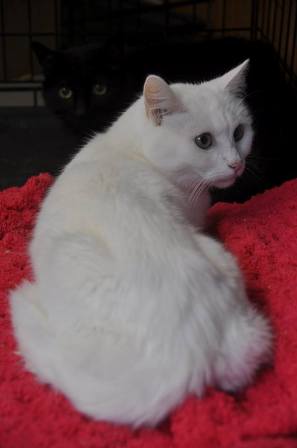 TROOPER and TIGGER need a CARING HOME.
These 13 year old brothers have lived all their lives in a quiet home with an older couple.
But the husband died a few years ago and his wife died recently, leaving the 2 cats homeless.
Both were thin and shy when they came to the shelter. Their lives had been turned upside down
and they were having trouble coping.
A foster home took them in, and after a few weeks Trooper, the white cat, was friendly and eating ravenously, but not gaining weight in spite of being wormed. Tigger, the black shadow, was also not gaining weight and was regularly throwing up small amounts of mucous overnight.
Blood work and X-rays show both cats have medical problems.
Trooper is hyperthyroid, a common problem in older cats and easily treated with medication. But he also has a heart murmur, an enlarged liver and small masses throughout his liver, probably cancer.
Tigger has multiple masses through his lungs and intestines, almost certainly cancer.
Trooper is currently on thyroid medication, he is no longer constantly hungry although he still has a good appetite and is gaining some weight. He is a tall, long cat and currently weighs only 8 lbs. He is active, curious, playful at times, and is probably the one who catches the occasional mouse. Tigger is now on a steroid medication to reduce inflammation and discomfort. He is still wary but will sit on the cat tree by the window and enjoys being petted gently.
Both cats have a moderate amount of tartar on their teeth which may be part of the reason they will only eat canned cat food. And they eat a lot of it, 18 oz a day. They don't care if it's meat or fish,
but it has to be soft. And as they are both thin, we're not going to argue with them.
A lot of canned cat food was donated over the Christmas season but the supply is dwindling fast.
So on behalf of Trooper and Tigger we are asking for help.
Any donations of canned cat food would be greatly appreciated.
Most of all, they need a home for the rest of their lives.
There is no way of knowing how long that will be, but certainly sooner rather than later.
Adoption would be great, but if anyone is willing to give these two brothers a permanent foster
home for the rest of their lives it would be a great gift to them. They don't require any special care except for daily pills which they take easily with their food. They would do best in a quiet home. If fostered NWAS will provide anything needed for their care, including food, medication and any further vetting.
So if you have some room in your house and your heart for these two cats please contact us at info@nwas.ca . It would be wonderful for them to be part of a family again for the remaining time they have left. Death is inevitable, hopefully they can be loved and cared for until that time comes.
Photos