Sister Wives Kittens 3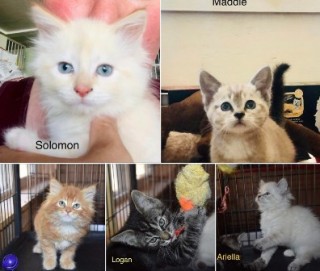 The last of our "Sister Wives" kittens are finally available for adoption. This group is bold, playful, and sweet. They had the wonderful opportunity to grow up in a Foster home and are well socialized with dogs and people. They seem to also be very comfortable around other cats. They are vet checked, vaccinated and up to date on parasite control. All families interested in adopting kittens from us will need to be registered clients at a vet clinic or become registered clients of one and be able to book booster vaccine and spay or neuter appointments for their babies.
Solomon - Male - DOB March 13th. People oriented, cuddly
Maddie - Female - DOB March 13th. Super cuddly and affectionate
Adopted! - Dayton- Male - DOB March 13th. This boy is a good mix of playful and cuddly. He is a unilateral cryptorchid (only has one descended testicle) he will be adopted out at the same cost as a female kitten as his neuter surgery will be more in line with how a spay surgery is done.
Logan- Male - DOB Feb 27th. Adventurous, playful.
Ariella - Female - DOB March 13th. Sweet