Sister Wives Kittens 2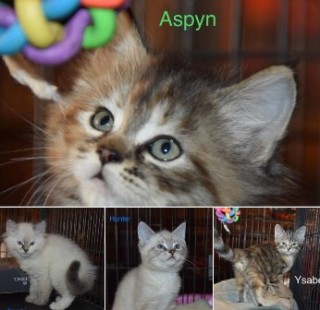 Our next batch of Sister Wives kittens are now 9 weeks old and beyond ready for their forever families. This adorable little group are very people oriented, cuddly and playful. They are good with other cats and have had limited exposure to calm and respectful dogs. They have been vet checked and vaccinated and are up to date on parasite control. As always a spay or neuter contract will be in place with any of these kittens and any new families will need to book their booster vaccines and spay or neuter appointment before the kittens head home.
Aspyn - Female - 9 weeks. Cuddly and sweet.
Truely - Female - 9 weeks. Cuddly and wants to be involved in everything.
Adopted- Hunter - Male - 9 weeks. Very playful! He is a possible unilateral cryptorchid (meaning on testicle has not yet descended) this will be able to be confirmed as he gets older but for now he will be adopted out at the same price as the females as a cryptorchid surgery costs the same as a spay. New owner will be reimbursed if his second testicle descends by the time of surgery.
Adopted - Ysabel - Female - 9 weeks. The boldest and friendliest of the bunch. She loves to knead on people and snuggle.