Raffi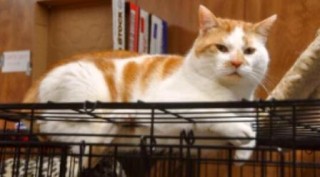 FOR ADOPTION: RAFI is a character. This lucky one and a half year old male is looking for a home!
Rafi came to us broken, at least in the physical sense.
Rafi suffered from a broken leg, broken pelvis, and had to have his tail amputated! He had a long and difficult recovery, but you cant keep a good cat down!
Today Rafi is all healed up (and a little annoyed that he had to spend so much time restricted to a tiny crate) and strutting around like he owns the place. He will need an indoor only home, but has no problem getting around inside and even climbs a cat tower.
Rafi is very playful with other cats, but is nervous around dogs, so any k9 companion would have to be calm and respectful. Despite his name, he has no interest in entertaining (or living with) children.
Like all our adult cats, he is fixed, vaccinated, and treated for parasites.
Do you think this resilient guy could join your family? Apply to meet him or any of his other feline friends.