Evelyn Kittens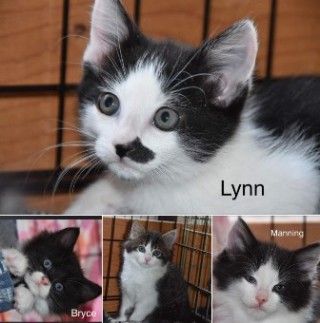 We have new babies looking for forever families! Meet the Evelyn Kittens. These beautiful babes were born under the home of a compassionate man in the Evelyn area after their momma showed up hungry and pregnant. They are all very lucky that he took the time to feed momma so she would stick around and got in touch with us to save the whole family. These kittens were on their way to being feral when they arrived but they have quickly turned into playful and friendly babies with just a little bit of handling. They are now vet checked, vaccinated, up to date on parasite control and ready to find their forever families.
Lynn- Female - 9 weeks. Very playful.
Bryce - Male - 9 weeks, the most confident and people oriented. Loves to be pet.
ADOPTED _ Randi - Female - 9 weeks. Friendly and loves to be pet.
Manning - Male - 9 weeks. A good mixture of playful and cautious.