Bugs Life Kittens (only DOT available)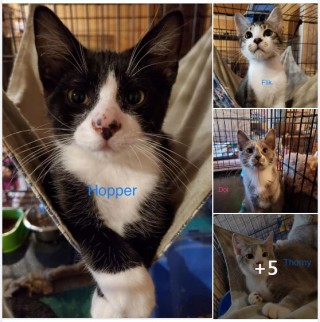 8 more beautiful babies looking for forever homes. This is our "Bug's Life" crew. They are from three litters but all from the same
Home. They are all great with other cats, apprehensive with dogs and most are good with kids. If you are interested in meeting these little sweeties, fill out an application!

TRANSFER TO PG - Hopper - Male - 16 weeks Friendly and forward
ADOPTED - Flik - Male - 16 weeks friendly and forward. Loves belly rubs
Dot - Female - 20 weeks friendly and forward. Loves Belly rubs
TRANSFER TO PG - Thorny - Male - 20 weeks more apprehensive with new people but sweet when handled
ADOPTED - Blueberry - Female 12 weeks. Sweet and quiet
ADOPTED - Francis - Male - 16 weeks friendly, forward, very cuddly
TRANSFER TO PG - Atta - Female 12 weeks. On the shy side but very sweet when handled
TRANSFER TO PG - Dim - Female 16 weeks on the shy side but sweet when handled
Photos