Boots - Foster Found!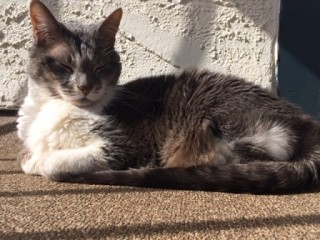 FOSTER HOME WANTED

BOOTS Is a beautiful, sweet, 17 year old lady that is in kidney failure and looking for a palliative foster home. This means that she will remain in the care of NWAS and we will cover her vet bills and special food but she would really like to have a comfortable home to spend the end of her life in. Boots has been living in a wonderful foster home for the past few months but they very unfortunately have to move down south. In the words of Boots' current foster mom "Boots likes warm bodies. She likes to lay in your lap or on your body and definitely likes to be groomed by her humans but everything has to be on her terms and in her time. She does not like to be picked up but will tolerate it for a short minute... Mostly she just lays around. She has a few times a day where she is active. And when she wants something she will let you know. She can be very vocal (including early morning). She will scratch on the door if she wants into a room (she has done no damage here but is good at training her humans). She has a chair that she occasionally scratches on but mostly she uses the carpet. She likes her litter box kept clean and she is a messy eater. She can jump onto chairs but has never jumped onto the counter." So she is a bit of a set in her ways lady that does come with some quirks but for the most part she is a low maintenance, easy going companion. She does get medication daily to help her failing kidneys. He foster mom says about giving her meds. "She has never lashed out at me or my girls. She will put up her paw to try to prevent you giving her a syringe full of medicine and /or try to run away" she also has a special diet that is easy for her kidneys to break down. Boots' biggest quirk is that she will need to be the only pet in her household. She has made it abundantly clear while at the shelter that she does not like other cats and she has had very little experience with dogs.

If you have a lot of love, a little patience and room to have a sweet old lady live out her final days apply today at http://nwas.ca/programs/foster/ to be her FOSTER home.