Adopt a Cat
All animals are vet checked before adoption. This usually includes dewormer, revolution (for mites and fleas) and vaccination. Adults are all spayed and neutered before adoption. FEES: Adult cats $75.00, Kittens $50.00 (+$210.00 deposit for female and $131.25 for male kittens toward spay and neuter*) *local adoptions (Bulkley Valley).
Adoption Procedure: Complete an adoption application online or download and return to NWAS. If you are unable to scan and return the form, print it off and send the completed form via snail mail (local residents) to Box 3064, Smithers, BC V0J 2N0. Our adoptions co-ordinator will then be in touch.
As a volunteer run organization we do not maintain regular hours where you can stop by to meet the animals. All visits to the shelter are by appointment only, after an application has been filled out. As all animals do not get posted to the website if we have approved applicaitons on file, we encourage you to fill out an applicaiton and tell us what you are looking for. If such an animal comes into our care, we will be in touch.
Additional Info: Once adoptions are finalized, animals are removed from the site. We operate on full-disclosure. If there are any health or behavioral concerns, we will let you know. Adoptions are very time consuming for our volunteers. Please respect their time and only contact us if you are quite serious about adopting an animal. Please complete the adoption form and return to the NWAS.
Cats/ Kittens available for adoption:
---
FOR ADOPTION: CASANOVA is a fun 8 month old male looking for a family to love. This big boy is friendly and playful with everyone and everything he meets....
---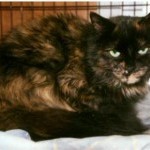 FOR ADOPTION: GERTRUDE is an affectionate young female looking for a single cat home to call her own....
---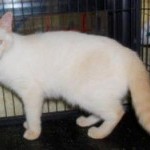 FOR ADOPTION: GHOST is a stunning, flame point Siamese mix female on the look out for a loving family....
---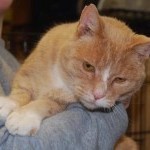 FOR ADOPTION: TINKLE is a dapper gentleman looking for a special family to spend his golden years with....
---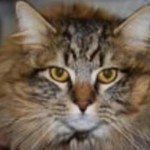 FOR ADOPTION: TRIGGER is an 8 month old gentle giant. This handsome boy is a Main Coon mix, he is bigger than many small dogs and not done growing just yet....
---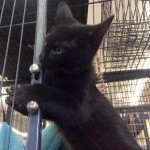 FOR ADOPTION: SANDY and SCOOTER are 11 week old Manx cross brothers on the prowl for their very own families....
---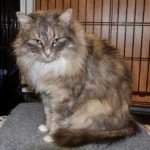 FOR ADOPTION: LUNA is a fierce, fabulous 2 year old female looking for a home to call her own. This pretty diva gets along well with other cats but likes to make the rules and would pair best with a submissive Feline friend...
---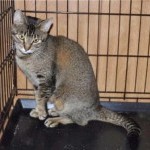 FOR ADOPTION: CYPRIS is a stunning two year old female looking to settle down with a family of her own.
---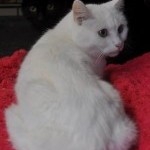 These 13 year old brothers have lived all their lives in a quiet home with an older couple. But the husband died a few years ago and his wife died recently, leaving the 2 cats homeless.
---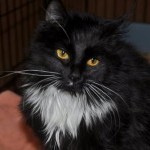 Four cats into homes in two weeks is such great numbers that young miss Puffin has decided to set up shop at Total Pet in Smithers. Puffin is a playful 7 month old female that would love to have you come say hi. The amazing staff at Total Pet will happily introduce you and if you happen to fall in love, they have applications available on site!
---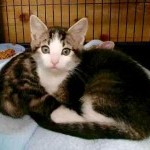 NWAS is crawling with cute, curious kittens!
---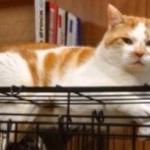 RAFI is a character. This lucky one and a half year old male is looking for a home! Rafi came to us broken, at least in the physical sense.
---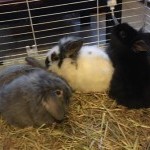 **THESE ANIMALS ARE NOT IN THE CARE OF NWAS** Nature is super sneaky, and definitely got us good. We have somehow been blessed with six baby bunnies, and their breed is a lionhead lop rex mix.
---

This is my cat Milo, and I am looking for a foster home for her.
---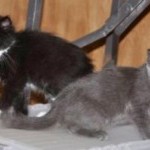 WALNUT and HAZELNUT are 9 week old brother and sister looking for a family or families to call their own.
---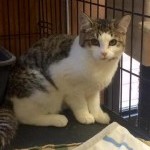 CLINTON is a striking young male looking for a quiet home to call his own.
---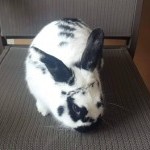 Complimentary post - this animal is not in the care of the NWAS. All representations about the animal are provided by the pet guardian.
---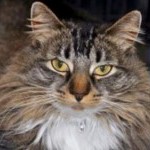 MIM is a gentle 3 year old female that is looking for a quiet home to fill with her love. If your hobbies include reading, classical music, silent movies, and art then Mim could be your spirit animal.
---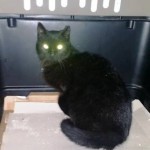 Adopting a cat through the barn cat program can help save the life of a cat who may not have other options.However, the care of a barn cat is still a responsibility. You will be assuming care for the cat for its entire lifetime. In exchange for providing the essentials of food & water and shelter, your barn cat will earn its keep by helping to control the rodent population in your barn. Contact info@nwas.ca to see if any cats are looking for a barn home.
---