Adopt a Cat
All animals are vet checked before adoption. This usually includes dewormer, revolution (for mites and fleas) and vaccination. Adults are all spayed and neutered before adoption. FEES: Adult cats $75.00, Kittens $50.00 (+$210.00 deposit for female and $131.25 for male kittens toward spay and neuter*) *local adoptions (Bulkley Valley).
Adoption Procedure: Complete an adoption application online or download and return to NWAS. If you are unable to scan and return the form, print it off and send the completed form via snail mail (local residents) to Box 3064, Smithers, BC V0J 2N0. Our adoptions co-ordinator will then be in touch.
As a volunteer run organization we do not maintain regular hours where you can stop by to meet the animals. All visits to the shelter are by appointment only, after an application has been filled out. As all animals do not get posted to the website if we have approved applicaitons on file, we encourage you to fill out an applicaiton and tell us what you are looking for. If such an animal comes into our care, we will be in touch.
Additional Info: Once adoptions are finalized, animals are removed from the site. We operate on full-disclosure. If there are any health or behavioral concerns, we will let you know. Adoptions are very time consuming for our volunteers. Please respect their time and only contact us if you are quite serious about adopting an animal. Please complete the adoption form and return to the NWAS.
Cats/ Kittens available for adoption:
---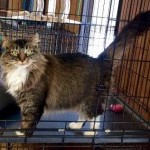 FOR ADOPTION: MIM is a sweet, gentle roughly 3 year old female looking for a peaceful home to call her own....
---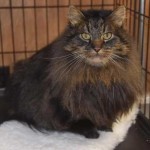 FOR ADOPTION: LUCY is a big, beautiful roughly 3 year old female that was found as a stray and never claimed. Due to her long luxurious coat and large frame we believe Lucy to be a Main Coon mix....
---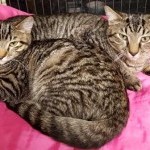 FOR ADOPTION: MICKY and RORY are a six month old brother/sister duo....
---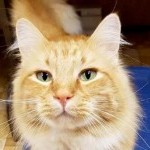 FOR ADOPTION: OLIVER is a true gentleman looking for the perfect family. This guy is a drop dead gorgeous 3 year old male with a winning personality....
---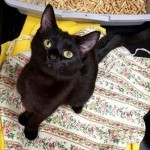 FOR ADOPTION: ANNIKA is a beautiful 6 month old female looking for her own special family. Annika is on of Ariya's kittens that was born feral and caught at the Smithers golf course....
---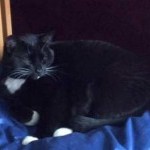 FOR ADOPTION: BONNIE is sweet two year old female looking for a very special home. Bonnie is an affectionate, gentle and devoted little lady that came to us from a cat colony in the Telkwa....
---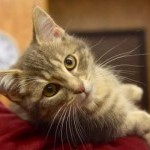 KITTENS! Our never ending kitten season has slowed down a little but we certainly still have kittens available. These four plus a little Calico that likes to evade the camera are a group of well socialized, friendly and forward kittens looking for loving, responsible homes.....
---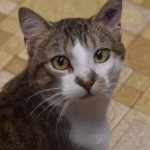 FOR ADOPTION: GIZMO is a bold, fun and friendly 1.5 year old male looking for his forever family. This handsome fellow has proven to be very good with other cats.....
---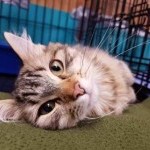 FOR ADOPTION: LOLITA is a sweet, gentle 5 month old female looking for a calm, loving family. She is shy a first but quickly warms up to a gentle head pat and would do anything for an ear rub....
---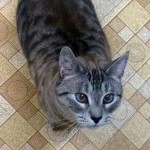 FOR ADOPTION: TAO is a complicated guy looking for a special home. Tao is very picky about who he likes. If he likes and trusts you he is affectionate, playful and charming....
---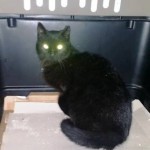 Adopting a cat through the barn cat program can help save the life of a cat who may not have other options.However, the care of a barn cat is still a responsibility. You will be assuming care for the cat for its entire lifetime. In exchange for providing the essentials of food & water and shelter, your barn cat will earn its keep by helping to control the rodent population in your barn. Contact info@nwas.ca to see if any cats are looking for a barn home.
---